Northair Trench Sampling of Ram Zone Yields 16.20 Metres of 99.6 g/t Silver at La Cigarra Silver Project, Mexico
International Northair Mines Ltd. (TSXV: INM) (the "Company" or "Northair") is pleased to announce encouraging results from the ongoing exploration program at its La Cigarra silver project (the "Property"), located in north central Mexico.
The program, as outlined in the March 25, 2014 press release (see INM PR#14-03), continues to produce positive results. Recent mapping, rock and soil sampling on the Company's Ram Zone target has identified potentially important silver mineralization approximately 750 metres to the west of the main La Cigarra resource. The Ram Zone may represent an important parallel zone of silver mineralization that could significantly add to the economics of the La Cigarra project.
The Ram Zone is defined by a strong silver in soil anomaly that has been traced for 900 meters over a north-south trending strike length with a width varying from 50 to 300 metres. The area hosts previously unknown mine workings developed along quartz veining and stockwork in west dipping rocks with similarities to the east dipping main La Cigarra trend. Sampling of quartz veining and stockwork exposed in an underground adit, contained within and parallel to the north-south striking Ram Zone, returned an average silver grade of 554.8 g/t along 33.50 metres; with grades varying from 87.8 g/t silver to 2,850 g/t silver. True width of the structure is estimated at a minimum of 1.2 metres. To better determine the width of mineralization, an 84 metre long trench ("Trench #1") was excavated perpendicular to and above the sampled adit and within the Ram Zone anomaly. Results from Trench #1 identified quartz veining and stockwork that returned 35.45 metres of 67.3 g/t silver (including 16.20 metres of 99.6 g/t silver and 4.85 metres of 141.4 g/t silver). The Ram Zone remains open along strike to the north and south and down dip to the west.
As a follow-up to these encouraging results, Northair crews are excavating three additional trenches and eight sample pits along the strike to expose bedrock in areas where previous soil sampling yielded highly anomalous silver values. This work is designed to determine the extent of the targets strike extension in both directions from Trench #1. The Company will provide updates of this work program as results become available.
The Ram Zone in relation to the La Cigarra Mineralized Trend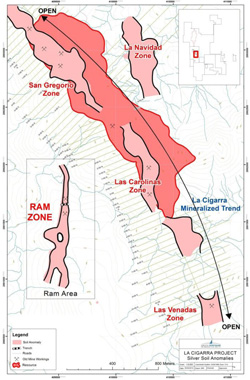 Click to enlarge

Sampling and QA/QC
All technical information for the La Cigarra exploration program is obtained and reported under a formal quality assurance and quality control ("QA/QC") program. Samples are taken under the direction of qualified geologists and stored in sealed bags. Samples are delivered by the Company via courier to ALS Minerals ("ALS") in Chihuahua. The samples are dried, crushed and pulverized with the pulps being sent airfreight for analysis by ALS in Vancouver B.C. Systematic assaying of standards is performed for precision and accuracy. Analysis for silver, zinc, lead and copper and related trace elements was done by ICP four acid digestion, with gold analysis by 30 gram fire assay with an AA finish.
The scientific and technical information in this news release has been approved by Fred Hewett, the Company's President and CEO, and a Qualified Person under National Instrument 43-101.
About International Northair Mines Ltd.
International Northair Mines Ltd is a mineral exploration company engaged in the acquisition and development of gold and silver properties in Mexico. Northair is focused on advancing its La Cigarra silver project located in the state of Chihuahua, which currently hosts a NI 43-101 Resource estimate of 50.4 million ounces of silver in the Measured & Indicated categories grading 76 g/t silver and 3.5 million ounces of silver in the Inferred category grading 61 g/t silver constrained by a Whittle pit shell at an economic cutoff grade of 30 g/t silver (assuming metallurgical recoveries of 84% silver). The La Cigarra silver deposit also contains appreciable amounts of lead, zinc and gold as referenced in the San Gregorio/Las Carolinas Resources Technical Report La Cigarra Project, Chihuahua Mexico dated effective February 26, 2013.

ON BEHALF OF THE BOARD,
INTERNATIONAL NORTHAIR MINES LTD.


"Fred G. Hewett"


Fred G. Hewett, P.Eng.
President & CEO
For further information please contact Fred Hewett, President & CEO or
Chris Curran, Manager, Corporate Communications at 604-687-7545 or 1-888-338-2200
Website: www.northair.com/international/ Email: info@northair.com
Neither TSX Venture Exchange nor its Regulation Services Provider (as that term is defined in the policies of the TSX Venture Exchange) accepts responsibility for the adequacy or accuracy of this news release.


This news release may contain forward looking statements which are not historical facts, such as resource estimates, anticipated results and costs, and discussions of goals and exploration results, and involves a number of risks and uncertainties that could cause actual results to differ materially from those projected. These risks and uncertainties include, but are not limited to, metal price volatility, volatility of metals production, project development, resources estimates, future anticipated resources and cost engineering estimate risks, geological factors and exploration results. See Northair's filings for a more detailed discussion of factors that may impact expected results.