Northair Initiates Exploration Program at Sierra Rosario Project, Mexico
International Northair Mines Ltd. (TSXV: INM) (the "Company" or "Northair") is pleased to announce that initial work is underway in preparation for an extensive exploration program at its Sierra Rosario silver/gold project, located in the state of Sinaloa, Mexico.

Northair, as Operator, along with its 50% partner American Consolidated Minerals Corp. ("American Consolidated") are preparing to conduct an exploration program at Sierra Rosario that will focus on the main San Rafael Zone target, as well as several other attractive silver and gold prospects on the property. This program is scheduled to begin in January 2012 and will include geological mapping, sampling, trenching and geophysics with the objective of establishing multiple new drill targets.

"In addition to Northair's exciting drill program underway on the La Cigarra Project, the Sierra Rosario program will provide shareholders with exposure to another excellent precious metal project in Mexico," said Fred Hewett, President & CEO of Northair. "The San Rafael Zone represents an excellent drill target at Sierra Rosario -- one that Northair has been eager to test since it originally staked the property."

Sierra Rosario Property:

The Sierra Rosario Property was originally staked by Northair to cover the outcropping San Rafael gossan zone and a significant number of placer gold occurrences situated in drainages over the northern portion of the project area. Initial sampling of the San Rafael Gosson returned an average value of 181 g/t silver and 0.32 g/t gold from 23 chip channel samples. These samples averaged five metres in length and were taken mainly from quartz stockwork veining within an outcropping rhyolite porphyry. (Click the following link to view a map of the Property):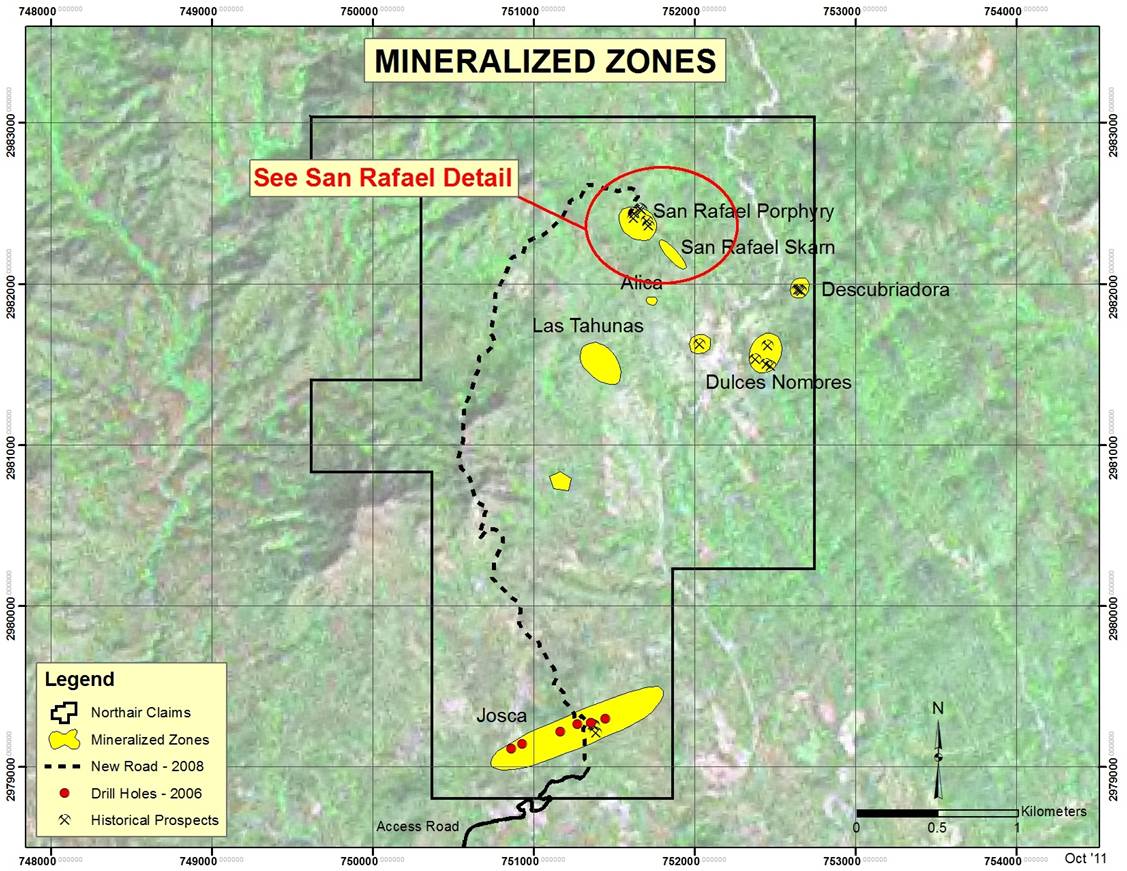 Initial exploration on the project was focused on the southern area of the concession, with later construction of an access road to the San Rafael Zone. Sampling completed along the road where it cut the San Rafael Zone included an additional 321 continuous three meter channel samples. This sampling identified, two continuous mineralized areas measuring 34.8 meters and 27 meters in length with average silver grades of 192 g/t and 91.8 g/t, respectively. These favorable results reinforce the bulk minable potential of the San Rafael target area.

During the exploration program at the San Rafael Zone, Northair discovered several small historical underground mines to the east, which host manto-skarn base and precious metal mineralization. At the Dulces Nombres target, 35 underground chip samples from 1.5 to 3.0 metres in length averaged 0.71g/t gold, 263 g/t silver and 0.35% copper. At the La Descubriadora target, 19 chip samples of similar size, averaged 0.40 g/t gold and 83.7 g/t silver, respectively. These discoveries, combined with the priority San Rafael Zone target, provide significant upside exploration potential at Sierra Rosario.

This news release has been prepared in accordance with Canadian regulatory requirements set out in National Instrument 43-101 and reviewed by Fred Hewett the Company's President and CEO, and a Qualified Person under NI 43-101.

ON BEHALF OF THE BOARD,
INTERNATIONAL NORTHAIR MINES LTD.

"Fred G. Hewett"
____________________________________
Fred G. Hewett, P.Eng.
President & CEO


For further information please contact Fred Hewett, President or Chris Curran, Investor Relations
at 604-687-7545 or 1-888-338-2200
Website: www.northair.com/international/ Email: info@northair.com ________________________________________________________________________________
Neither TSX Venture Exchange nor its Regulation Services Provider (as that term is defined in the policies of the TSX Venture Exchange) accepts responsibility for the adequacy or accuracy of this news release.

This news release may contain forward looking statements which are not historical facts, such as ore reserve estimates, anticipated production or results, sales, revenues, costs, or discussions of goals and exploration results, and involves a number of risks and uncertainties that could cause actual results to differ materially from those projected. These risks and uncertainties include, but are not limited to, metal price volatility, volatility of metals production, project development, ore reserve estimates, future anticipated reserves and cost engineering estimate risks, geological factors and exploration results. See Northair's filings for a more detailed discussion of factors that may impact expected results.

This news release does not constitute an offer to sell or solicitation of an offer to sell any securities in the United States. The securities have not been and will not be registered under the United States Securities Act of 1933, as amended (the "U.S. Securities Act") or any state securities laws and may not be offered or sold within the United States or to U.S. Persons unless registered under the U.S. Securities Act and applicable state securities laws or an exemption from such registration is available.