International Northair Mines Provides Exploration Update on La Cigarra Silver Project, Mexico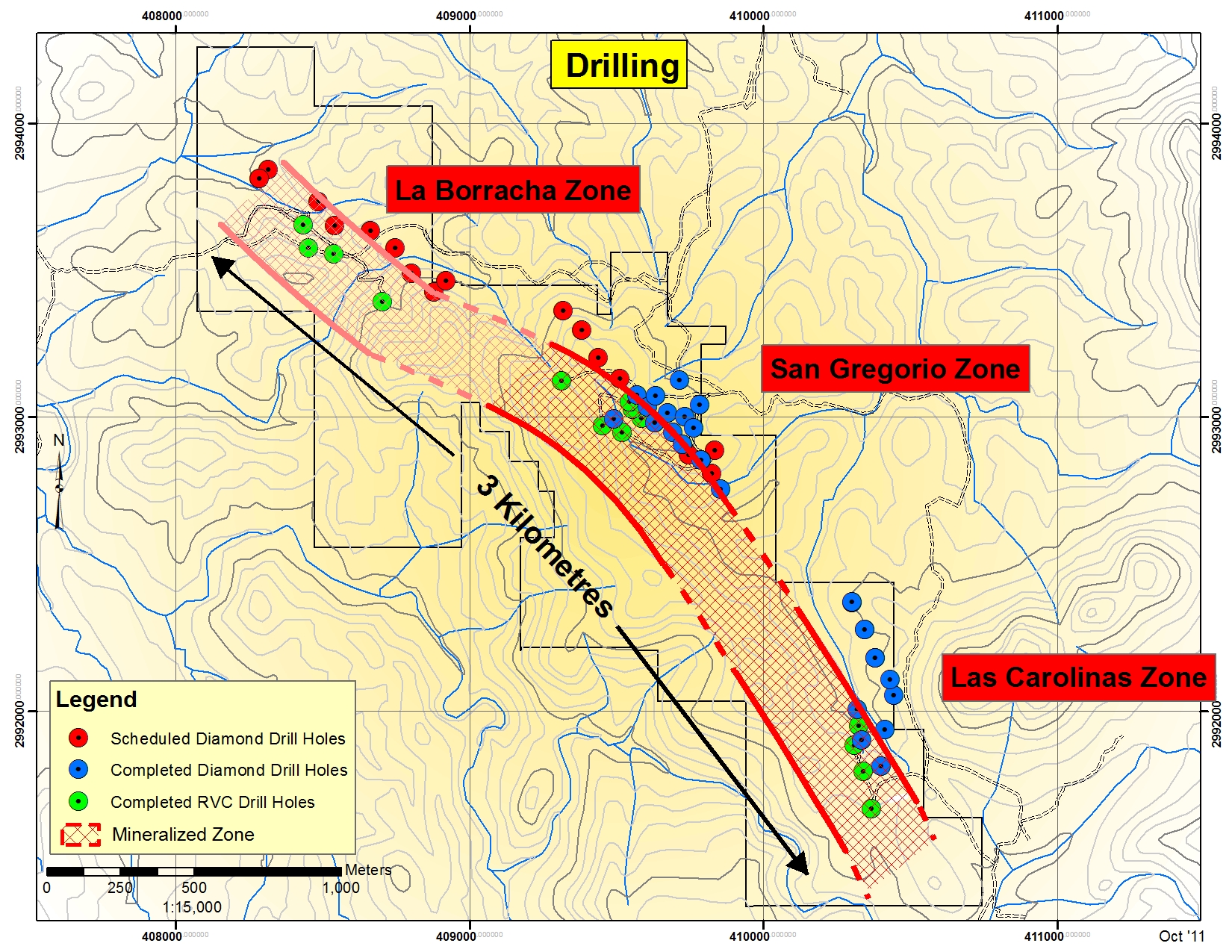 "We are very pleased with the Company's exploration success at La Cigarra," said Fred Hewett, President & CEO of Northair. "Work to date clearly demonstrates that the property has the potential to host a significant bulk tonnage, near surface, open-pit silver deposit. Future prospects for La Cigarra look promising, as the Company continues to aggressively advance the Project towards a resource estimate scheduled in Q1 2012. This work will be followed up by a study to generate a preliminary model of the economic potential of the project."
Exploration by Northair commenced at the La Cigarra Property in April 2009. Since that time the Company has carried out geological mapping and sampling, geochemical soil surveys, a ground magnetic geophysical survey, drilling and metallurgical testing. Highlights of the Company's exploration successes are:
Drilling:
Since May 2010, Northair has drilled over 8,500 meters in 48 holes consisting of 1,455 meters in 15 reverse circulation holes and over 7,000 meters in 33 core holes. Drilling has mainly focused on two of three known mineralized zones along a three kilometre trend. Results from the drill programs confirm:
A strong and potentially surface minable mineralized system comprised of the central (San Gregorio) and south (Las Carolinas) zones with a combined length of 1.7 kilometres. The mineralization encountered within these two zones remains open along strike in both directions and down dip.
Strike length of the San Gregorio Zone presently totals 650 metres. Drilling has confirmed the mineralized structure to be approximately 125 metres wide and traced to a depth of approximately 250 metres.
Strike length of the Las Carolinas Zone totals 650 metres with a width of approximately 100 metres. Drilling has traced the structure to a depth of approximately 200 metres.
Further exploration potential exists in the intervening 400 metres between the two zones; as well in the north zone (La Borracha) where a further 1.5 kilometres of structure and a coincident silver soil geochemical anomaly has been identified. The Company has recently drilled four core holes in this zone and geological logging and sampling of these holes is currently underway.
Ongoing drilling seeks to complete infill holes within the San Gregorio Zone and to better define the permissive area between the San Gregorio and Las Carolinas zones. Drilling will also explore the mineral trend northwest from the San Gregorio towards the La Borracha Zone.
Click the link to view the significant mineralized intervals for each drill hole:
http://www.kootenaysilver.com/i/pdf/northair/2011-09-29_La_Cigarra_Drill_Results_Update.pdf
Click the link to view a section of the San Gregorio Zone highlighting some of the most significant drill hole intervals:http://media3.marketwire.com/docs/Press_Release_SG0%2b00_01.jpg
Soil Geochemistry:
Following the Company's initial drill (reverse circulation) program in 2010, a systematic soil sampling survey was initiated on a 50 by 50 meter grid over a strike distance of 3.8 kilometres. A significant soil anomaly with values greater than 5 ppm silver was identified that clearly defines the San Gregorio and Las Carolinas mineral trend and confirms the mineral potential along strike south of Las Carolinas and north of San Gregorio toward the La Borracha Zone. Associated pathfinder elements also help to focus exploration.
Geological Mapping:
Extensive surface geological mapping and sampling programs by Northair's geologists and consultants, over a two year period, have provided the Company with an understanding of the property's geology, structure and controls on mineralization. Silver mineralization at La Cigarra is related to a northerly striking, east dipping normal structure within a sedimentary package of rocks following the eastern margin of a granodiorite body. North dipping, left lateral post mineral faults have both down dropped and offset the mineralized structure. Intruding the sedimentary package of rocks are sills and dykes of granodiorite, diorite and rhyolites. Silver minerals including tetrahedrite, argentite, galena and sphalerite occur in quartz veins and stockworks within the sedimentary rocks.
Understanding of the mineralization and its controls continues to evolve as additional geological mapping and core drilling is carried out.
Ground Magnetic Survey:
In 2011, the Company completed a detailed ground magnetic survey over the Property to assist in defining areas to target by drilling. Results of the survey revealed a strong magnetic anomaly to the west of the San Gregorio and Las Carolinas zones believed to be related to the underlying granodiorite intrusive. At the La Borracha Zone, located at the northwest area of the Property, the magnetic anomaly becomes less intense, which may indicate a possible down-dropping of the sedimentary stratigraphy and underlying intrusive by post-mineral faulting. Drilling currently underway should assist in confirming the position of the granodiorite intrusive in this area and direct exploration in defining a mineralized zone.
Metallurgy:
The Company has conducted an initial metallurgical study on samples collected from core and reverse circulation drill holes located within the San Gregorio Zone. The composite samples were broadly classified into two types; sulphide material and mixed sulphide-oxide material. The two sulphide composits assayed 89 g/t silver and 81 g/t silver, while the two mixed sulphide-oxides composites assayed 148 g/t silver and 157 g/t silver. The samples were tested by both flotation and cyanide leaching. Results reflect that silver associated with sulphides was best recovered using a flotation process while recoveries from the mixed sulphide-oxides was optimally achieved through leaching. Rougher flotation recovered 94% of the silver in the sulphides at approximately 100 micron grind while leaching of the whole mixed sulphide-oxides recovered 84% of the silver at 100 micron grind over a 48 hour period. The metallurgical program was carried out by G&T Metallurgical Services of Kamloops, B.C., through the consulting firm of JDS Energy & Mining Inc. This work was under the supervision of Hoe Teh, P.Eng, a Qualified Person as defined by NI 43-101. Further testing will be carried out to optimize recoveries to be used in assessing the Property's economic potential.
Conclusion:
In a little over two years, Northair has taken the La Cigarra Project from a raw undrilled silver prospect to a project that continues to demonstrate the potential to host an open pit-able silver deposit. Drilling will continue on the Property over the coming months with an objective of defining a resource and generating an initial assessment of its economic potential.
Sampling and QA/QC
All technical information for the La Cigarra exploration program is obtained and reported under a formal quality assurance and quality control (QA/QC) program. Samples are taken under the direction of qualified geologists and stored in sealed bags. Samples are delivered by the Company via courier to ALS Chemex Labs in Chihuahua for drying, crushing and pulverizing; with the pulps sent airfreight by ALS Chemex to Vancouver B.C. for analysis. Systematic assaying of standards and blanks are performed for precision and accuracy. Analysis for silver, zinc, lead and copper and related trace elements was done by ICP four acid digestion, with gold analysis by 30 gram fire assay with an AA finish.
This news release has been prepared in accordance with Canadian regulatory requirements set out in National Instrument 43-101 and reviewed by Fred Hewett the Company's President and CEO, and a Qualified Person under NI 43-101.
ON BEHALF OF THE BOARD,
INTERNATIONAL NORTHAIR MINES LTD.-
"Fred G. Hewett"
____________________________________
Fred G. Hewett, P.Eng.
President & CEO

For further information please contact Fred Hewett, President or Chris Curran, Investor Relations
at 604-687-7545 or 1-888-338-2200
Website: www.northair.com/international/ Email: info@northair.com

---
Neither TSX Venture Exchange nor its Regulation Services Provider (as that term is defined in the policies of the TSX Venture Exchange) accepts responsibility for the adequacy or accuracy of this news release.
This news release may contain forward looking statements which are not historical facts, such as ore reserve estimates, anticipated production or results, sales, revenues, costs, or discussions of goals and exploration results, and involves a number of risks and uncertainties that could cause actual results to differ materially from those projected. These risks and uncertainties include, but are not limited to, metal price volatility, volatility of metals production, project development, ore reserve estimates, future anticipated reserves and cost engineering estimate risks, geological factors and exploration results. See Northair's filings for a more detailed discussion of factors that may impact expected results.
This news release does not constitute an offer to sell or solicitation of an offer to sell any securities in the United States. The securities have not been and will not be registered under the United States Securities Act of 1933, as amended (the "U.S. Securities Act") or any state securities laws and may not be offered or sold within the United States or to U.S. Persons unless registered under the U.S. Securities Act and applicable state securities laws or an exemption from such registration is available.