Northair Begins Soil Sampling Program at La Cigarra Silver Project, Mexico Preparation Underway for Phase II Core Drill Program
International Northair Mines Ltd. (TSXV: INM) (the "Company" or "Northair") is pleased to announce that its geological team has begun the next stage of exploration at the La Cigarra silver project, located in north central Mexico. The program is comprised of an initial soil survey between the Las Carolinas and San Gregorio zones in order to develop possible additional targets for the Company's Phase II core drill program, which will commence shortly. The drill program will include step out and deeper drilling to follow up the highly successful initial reverse circulation drill program.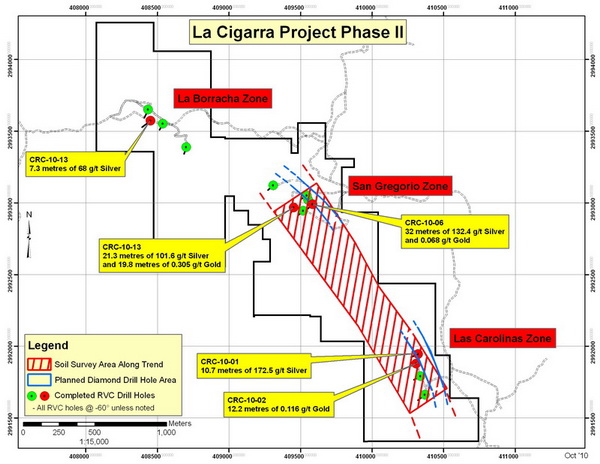 La Cigarra Phase I Drill Results

The phase I reverse circulation drill program was successful in testing three known mineralized targets on the property and intercepted significant widths of altered and mineralized sediments and volcanics. Drill highlights include 32 metres of 132.4 g/t silver in Hole CRC-10-06 and 21.3 metres of 101.6 g/t silver in Hole CRC-10-11 at the San Gregorio Zone, 10.7 metres of 172.5 g/t silver in Hole CRC-10-01 at the Las Carolinas Zone and a near surface intercept of 7.3 metres of 68 g/t silver in Hole CRC-10-13 at the La Boracha Zone. All intercepts returned anomalous and locally significant zinc with lead and copper.

The Company also conducted assaying for gold on certain select holes from the program. Highlights from the San Gregorio Zone include 19.8 metres of 0.305 g/t gold including 1.5 metres of 1.18 g/t gold in Hole CRC-10-11, 15.2 metres of 0.087 g/t of gold in Hole CRC-10-05 and 32 metres of 0.068 g/t gold including 6.1 of 0.142 g/t gold in Hole CRC-10-06. Highlights from the La Carolinas Zone include: 12.2 metres of 0.116 g/t gold including 6.1 metres of 0.132 g/t gold in Hole CRC-10-02.

Project Summary

The La Cigarra Project is located in State of Chihuahua along the eastern fringes of the Sierra Madre Occidental in Mexico. Local topography is gentle with good road access to the major city of Parral, located 26 kilometres to the south east. The La Cigarra Project hosts a silver-rich, epithermal mineral system that is controlled by a northwest striking fault system that has localized silver (lead, zinc, copper and gold) mineralization hosted in sediments and related to rhyolite dikes and flows. Grupo Northair de Mexico, S.A. de C.A., a subsidiary of Northair, can acquire a 100% property ownership by making payments over a 5 year period totaling US$445,000 with no royalties.



This news release has been prepared in accordance with Canadian regulatory requirements set out in National Instrument 43-101 and reviewed by Fred Hewett the Company's President and CEO, and a Qualified Person under NI 43-101.

ON BEHALF OF THE BOARD,
INTERNATIONAL NORTHAIR MINES LTD.

"Fred G. Hewett"
____________________________________
Fred G. Hewett, P.Eng.
President & CEO

For further information please contact Fred Hewett, President or Chris Curran, Investor Relations
at 604-687-7545 or 1-888-338-2200
Website: www.northair.com/international/ Email: info@northair.com
---
Neither TSX Venture Exchange nor its Regulation Services Provider (as that term is defined in the policies of the TSX Venture Exchange) accepts responsibility for the adequacy or accuracy of this news release.
This news release may contain forward looking statements which are not historical facts, such as ore reserve estimates, anticipated production or results, sales, revenues, costs, or discussions of goals and exploration results, and involves a number of risks and uncertainties that could cause actual results to differ materially from those projected. These risks and uncertainties include, but are not limited to, metal price volatility, volatility of metals production, project development, ore reserve estimates, future anticipated reserves and cost engineering estimate risks, geological factors and exploration results. See Northair's filings for a more detailed discussion of factors that may impact expected results.
This news release does not constitute an offer to sell or solicitation of an offer to sell any securities in the United States. The securities have not been and will not be registered under the United States Securities Act of 1933, as amended (the "U.S. Securities Act") or any state securities laws and may not be offered or sold within the United States or to U.S. Persons unless registered under the U.S. Securities Act and applicable state securities laws or an exemption from such registration is available.