KOOTENAY ANNOUNCES GENERATIVE PROGRAM IN NECHAKO PLATEAU RESULTS IN THE DISCOVERY OF TWO PRECIOUS METALS MINERAL SYSTEMS
Kootenay Silver Inc. (TSX VENTURE: KTN.V) ("Kootenay") is pleased to announce exploration activities conducted in the Nechako Plateau, British Columbia over the past two work seasons has resulted in the discovery of two new precious metal mineral systems called the Fox and Two Times Fred.
Highlights of the new finds are:
Known deposits and former producers in area such as the Blackwater Gold Deposit and the former producing Equity Silver Mine demonstrate geologic terrane that is permissive for large deposits.
Fox Property:
Strongly anomalous gold ("Au") and silver ("Ag") values in surface grab samples to 32 grams per tonne ("gpt") Au and 6049 gpt Ag.
Numerous anomalous mineral occurrences over one square kilometer.
Best mineralization underlain by three kilometer long magnetic anomaly.
Alteration and mineralization indicate potential for "disseminated and high grade type discovery".
Two Times Fred Property:
Consistently anomalous gold with silver in upper levels of a "hot spring" epithermal gold system.
Composite grab samples averaging 0.388 gpt Au with all samples averaging 0.318 gpt Au.
Geology and mineralization indicate potential for large low grade and smaller high grade deposits.
Stacked Gold anomalous silica veins lie flat over a large 1.75 by 2.5 kilometer area.
Mineralization coincident with airborne magnetic and EM anomalies with bigger aerial extent than known occurrences.
Kootenay targeted the Nechako Plateau region for gold and silver exploration as the geology is conducive to the formation of large precious metals deposits as evidenced by the renowned Blackwater gold deposit and the Equity Silver deposit. Multi-phase exploration conducted by Kootenay leading up to the discoveries included extensive ground soil and rock sampling, biogeochemistry, geological mapping, processing and in-depth interpretation of government magnetic and EM surveys and ground geophysical surveys (magnetic and VLF-EM).
NECHAKO PLATEAU REGION DISCOVERIES
The Fox and Two Times Fred properties are located within 20 to 90 kilometers of: the currently producing Endako molybdenum mine (as of January 2011, 282.2 million tonnes grading 0.046 per cent Mo combined Proven and Probable reserves; the past producing Equity Silver mine (33.8 million tonnes mined at an average grade of 0.4 percent copper, 64.9 gpt Ag and 0.46 gpt Au); and the Blackwater deposit owned by New Gold with 9.5 million ounces of gold and 70 million ounces of silver in Measured and Indicated ("M+I") resource at a grade of 0.74 gpt Au and 5.5 gpt Ag.
FOX PROPERTY
The Fox property is hosted in tertiary aged felsic volcanics. Silver and gold mineralization is comprised of numerous anomalous to highly anomalous gold-silver showings within a broad alteration envelope whose minimum extent is 1000 meters across by 1000 meters long.
Within this area is a 500 by 500 meter area of stronger silica alteration and geochemistry with several showings in limited outcrop where of 48 grab samples collected, 21 reported > 30 gpt Ag and 23 > 100 ppb Au with 16 > 100 gpt Ag and 11 > 1000 ppb Au. The area is open to the northeast and southwest and partially open to the northwest and southeast. It is intimately associated with a north northeast magnetic low running more than 3 kilometers. Accessory elevated levels of lead and molybdenum commonly accompany silver and gold highs.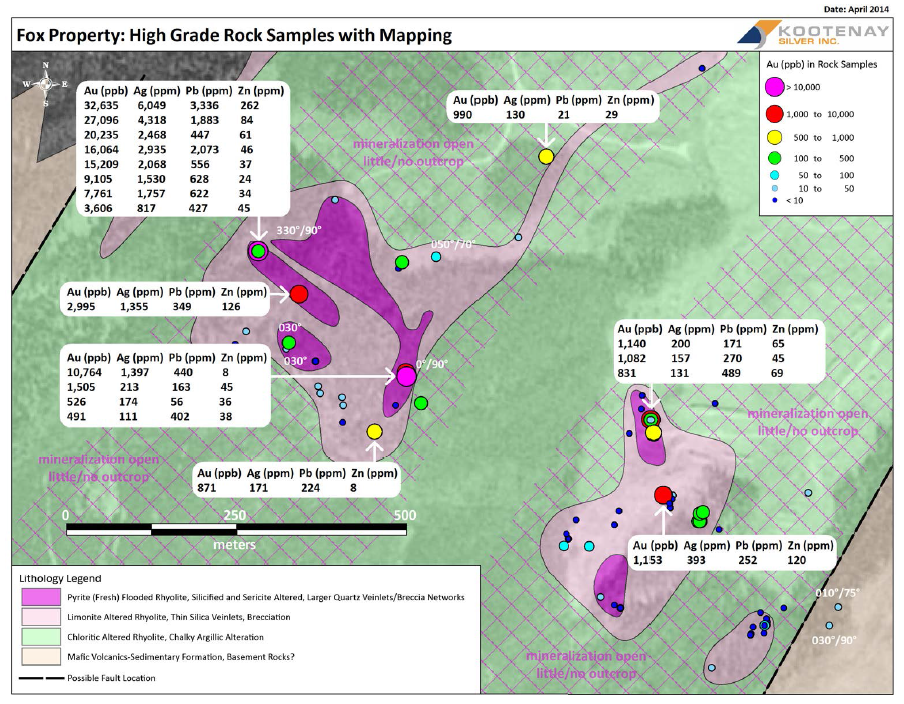 Silver and gold mineralization is strongest where hosted within a cm to mm scale open-space quartz veins as stock works, and breccia fills in felsic volcanic rocks and sub-volcanic feldspar porphyry. Vein orientations strike NE and NW and vein dips are commonly near vertical.
The outcrop of strongest mineralization seen to date trends roughly 330 degrees and dips near vertically. This zone consists of anastomizing veins of amethystine open-space quartz with pyrite, galena and pyrargyrite (?) infilling strongly fractured to crackle brecciated rock. It is exposed over a width of 10 meters and 30 meters of length.
Eleven Grab samples were taken from this outcrop. The Silver and gold assays are as follows with highs to 6049 ppm Ag and 32634 ppb Au and include:
Silver grading 9.9, 16.5, 68.2, 817, 1530, 1757, 2068, 2468, 2935, 4318 and 6049 gpt and gold grading 34.5, 64.7, 425.5, 3606, 7761, 9104, 15208, 16064, 20235, 27095 and 32634 ppb.
Another zone of multi-gram gold and silver occurring in open-space quartz veins is developed in the central portion of the property. Alteration and quartz vein material in this zone covers an area approximately 300 m x 300 m and appears to be less well mineralized. These two zones are separated by 400 meters and are proximal to a northeast trending topographic linear which may be related to a buried structure which looks coincident with the magnetic low referenced above. Both zones remain open along strike.
Outcrop is sparse and the system limits are not well defined. Alteration consists of silicification as quartz infilled fracturing and crackle breccia pyrite flooding as disseminations, and sericite outboard of which a broader zone of chlorite, epidote, and minor pyrite/clay alteration is developed. Altered rocks form an elongate zone in a north-easterly direction and may define a major structural zone related to mineralization at surface. A well-defined magnetic low trending over three kilometers northeast within a broader magnetic high is coincident with stronger alteration and mineralization at surface indicating mineralization may be more extensive than known showings.
To date work completed by Kootenay has consisted of rock geochemistry and prospecting conducted in three preliminary passes. A trial VLF/Mag survey over a limited portion of the mineralized areas and processing and interpretation of government airborne magnetic, gravity and Em surveys. Permits are in place for trenching of newly discovered zones.
TWO TIMES FRED PROPERTY
Gold and silver mineralization on the Two Times Fred property is hosted by flat lying chalcedonic to banded quartz veins, stock works, and breccias fills the textures of which are consistent with the upper levels of an epithermal hot spring system. The large aerial extent of the system and anomalous gold content indicates potential for large sized gold deposits to have formed either as an open pit low grade deposit or as high grade style deposits focused within feeder structures.
At least four vein sets are exposed in outcrop at surface including; Borrow Pit, Saki, Gold Hill and Swamp Thing, two other large float train/sub-cropping zones; Who Dunnit and Scud appear to be located close to their sources. In total the flat lying mineralized veins occur over an area measuring approximately 2.5 X 1.75 km. The overall size of the system remains open as glacial overburden masks bedrock in the majority of the area.
Veins found to date appear to cluster around a magnetic high feature located in the center of the property and are centered over an airborne EM conductor. Major veins and breccia zones are generally shallowly west dipping and form long hills and resistant benches in the flat topography. Individual silica veins and breccias are exposed in widths greater than four meters and can be traced in outcrop up to 400 meters.
Gold values obtained from 175 composite samples of quartz vein material collected in the 2013 field season ranged from 7 ppb to 4310 ppb with silver values up to 47 ppm. The average gold value from the 2013 program was 388 ppb with 143 samples returning values greater than 100 ppb and 45 samples giving values greater than 500 ppb. Since the property was acquired 324 rock samples have been analyzed in total with an average gold value of 318 ppb.
Table 1 - Selected assay values represent composite samples as opposed to selective grabs.
| | | | |
| --- | --- | --- | --- |
| ID | Ag (ppm) | Au (ppb) | Vein/Area |
| 2XF-40 | 11.3 | 752 | SCUD |
| 2XF-41 | 6.2 | 870.8 | SCUD |
| SK12-77 | 5.4 | 1592.1 | SCUD |
| 2XF-10 | 5.7 | 1327.4 | Who Dunnit |
| 2XF-21 | 3.6 | 539.8 | Who Dunnit |
| 2XF-22 | 8.9 | 285.5 | Who Dunnit |
| 2XF-171 | 7.8 | 812.8 | Who Dunnit |
| 2XF-172 | 6.5 | 1468.3 | Who Dunnit |
| 2XF-78 | 6 | 796.9 | Borrow Pit |
| 2XF-79 | 8.2 | 1185 | Borrow Pit |
| Sak12-251 | 6.6 | 703.2 | Borrow Pit |
| MK11-356 | 11.4 | 1071.9 | Borrow Pit |
| 2XF-103 | 44.6 | 4310.5 | Saki |
| 2XF-104 | 39.8 | 1909.8 | Saki |
| 2XF-105 | 18.1 | 1009.4 | Saki |
| 2XF-108 | 13.3 | 1039.1 | Saki |
| 2XF-109 | 17.4 | 1405.3 | Saki |
| 2XF-131 | 5.9 | 740.2 | Gold Hill |
| 2XF-149 | 9.8 | 677.4 | Gold Hill |
| 2XF-151 | 6.1 | 730.6 | Gold Hill |
| 2XF-154 | 13.6 | 864.5 | Gold Hill |
| 2XF-155 | 9 | 777.5 | Gold Hill |
| 2XF-156 | 8.8 | 664.4 | Gold Hill |
| 2XF-164 | 2.4 | 417.2 | Swamp Thing |
| 2XF-168 | 4.3 | 446.4 | Swamp Thing |
| 2XF-169 | 4 | 444.8 | Swamp Thing |
| Mk12-69 | 3.2 | 179.5 | Float Distal From Source |
| Mk12-70 | 11.8 | 600.3 | Float Distal From Source |
| Mk12-71 | 11.3 | 313.3 | Float Distal From Source |
| Mk12-72 | 8.3 | 1780.8 | Float Distal From Source |
| SK12-69 | 3.1 | 748.5 | Float Distal From Source |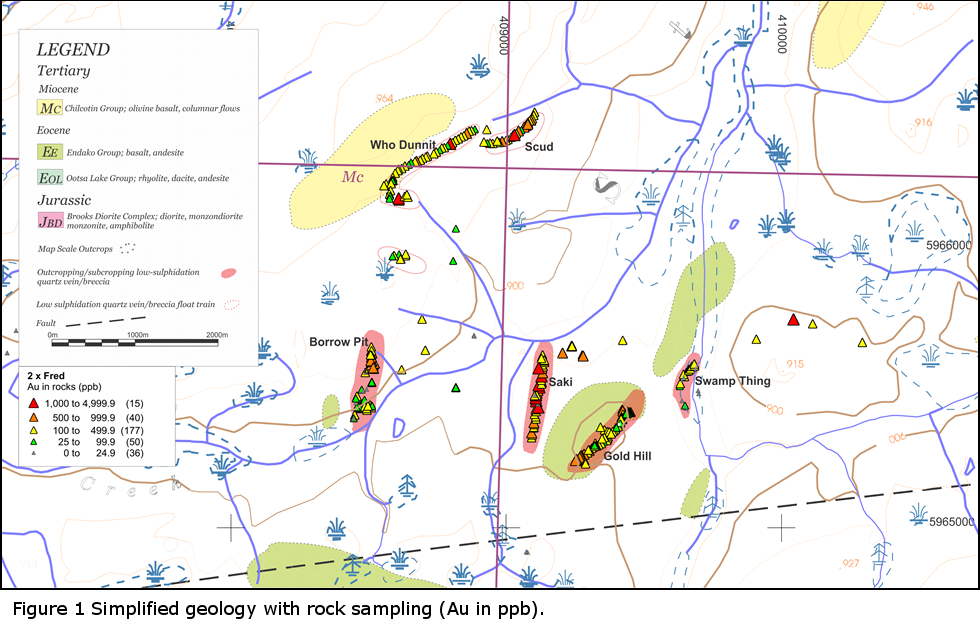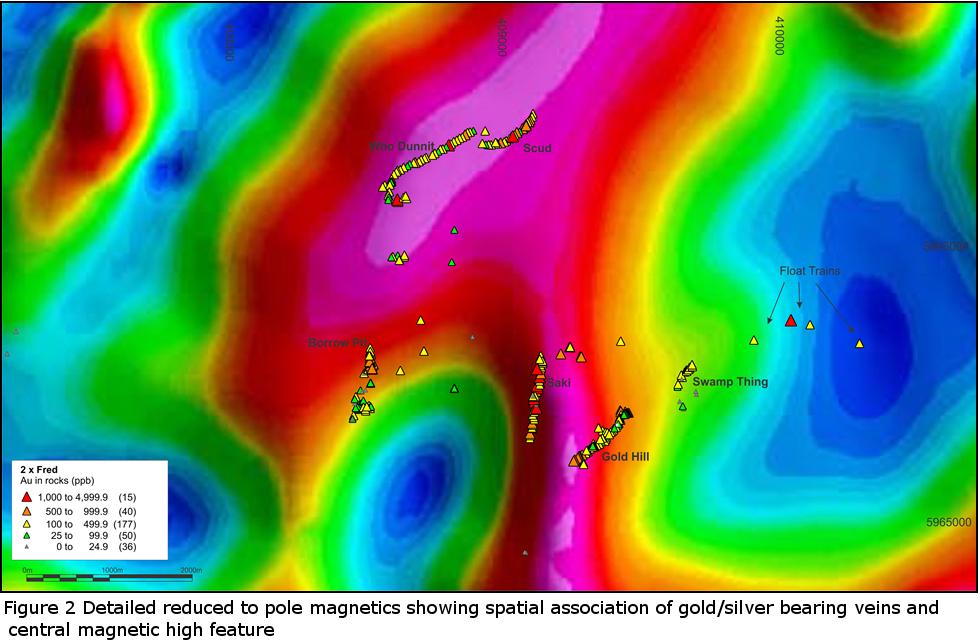 Anomalous to multi-gram gold values obtained from the upper levels of a hot spring system indicate good potential for higher grades at depth. Locating fault structures which may have acted as fluid conduits as well as further defining paleo-surfaces which would allow for large tonnage is a top priority for the property. The mineralized veins found to date are localized around a conspicuous magnetic high feature which may represent a feeder system at depth.
Work conducted by Kootenay has included rock sampling, biogeochemistry, geological mapping, processing and interpretation of government magnetic and EM surveys and ground geophysical surveys (magnetic and VLF-EM) as well as permitting for trenching and drilling. Future work plans include expansion of ground based geophysics followed by trenching and systematic sampling and mapping of the vein systems preclusive to diamond drilling.
ABOUT KOOTENAY
Kootenay Silver Inc. is actively developing mineral projects in the Sierra Madre Region of Mexico and in British Columbia, Canada. Its flagship property is the former producing Promontorio Silver mine in Sonora State, Mexico. Kootenay's objective is to develop near term discoveries and long-term sustainable growth. Its management and technical team are proven professionals with extensive international experience in all aspects of mineral exploration, operations and venture capital markets. Securing J/V partnerships in Mexico and Canada on non core assets maximize potential for additional, new discoveries while maintaining minimal share dilution.
Promontorio Silver Project - NI 43-101 Resource Estimate
The current mineral estimate on Promontorio effective date March 31, 2013 (See May 14, 2013 news release) contains a combined Measured and Indicated silver resource of 92,428,000 silver equivalent ounces (39.9M oz's Ag, 508K oz's Au, 394.8M lb's Pb, 462.2M lb's Zn). In addition to the measured and indicated silver resources, there are an additional26,814,000 silver equivalent ounces in the Inferred category (12.8M oz's Ag, 147 oz's Au, 99.5M lb's Pb, 109.1M lb's Zn). Measured and Indicated resources are contained in open pit resources of 44,504,000 tonnes grading an average of 64.32 gpt silver equivalent (27.77 gpt Ag, 0.35 gpt Au and 0.87% Pb+Zn) and resources outside of the open pit of 215,000 tonnes grading an average of 56.96 gpt silver equivalent (22.89 gpt Ag, 0.28 gpt Au and 0.95% Pb+Zn). Inferred resources are within open pit resources of 14,564,000 tonnes grading an average of 51.95 gpt silver equivalent (24.95 gpt Ag, 0.28 gpt Au and 0.59% Pb+Zn) and resources outside of the open pit of 1,265,000 tonnes grading an average of 61.17 gpt silver equivalent (26.57 gpt Ag, 0.37 gpt Au and 0.74% Pb+Zn).
The current NI 43-101 Resource Estimation conducted on Promontorio by SRK Consulting Inc. (U.S.) of Lakewood, Colorado (See May 14, 2013 news release), included gold assay results in the updated resource estimation. As a result of the addition of gold, the mineral resource is now contained in a single larger optimized Whittle Pit, as opposed to two individual smaller pits as reported in the August 21, 2012 resource estimate. The decision to include gold in the resource estimation follows extensive metallurgical testing and technical analysis conducted by ALS Minerals of Kamloops, British Columbia that confirmed up to 94.5% recovery of gold from pyrite concentrates from the Promontorio resource can be achieved using a post pressure oxidation treatment process.
QA/QC
All sampling reported are grab rock samples unless otherwise indicated. Further Quality Assurance and Control procedures and details on assays procedures and laboratories used are disclosed on the Kootenay Silver Inc. website.
The foregoing geological disclosure has been reviewed and verified by Kootenay's CEO, James McDonald, P.Geo (a qualified person for the purpose of National Instrument 43-101, Standards of Disclosure for Mineral Projects). Mr. McDonald is a director of Kootenay.
-30-
For additional information, please contact:
James McDonald, CEO and President at 403-238-6986
Ken Berry, Chairman at 604-601-5652; 1-888-601-5650
or visit: www.kootenaysilver.com
Neither TSX Venture Exchange nor its Regulation Services Provider (as that term is defined in policies of the TSX Venture Exchange) accepts responsibility for the adequacy or accuracy of this release.
Forward-Looking Statements:The information in this news release has been prepared as at April 2, 2014. Certain statements in this news release, referred to herein as "forward-looking statements", constitute "forward-looking statements" under the provisions of Canadian provincial securities laws. These statements can be identified by the use of words such as "expected", "may", "will" or similar terms.
Forward-looking statements are necessarily based upon a number of factors and assumptions that, while considered reasonable by Kootenay as of the date of such statements, are inherently subject to significant business, economic and competitive uncertainties and contingencies. Many factors, known and unknown, could cause actual results to be materially different from those expressed or implied by such forward-looking statements. Readers are cautioned not to place undue reliance on these forward-looking statements, which speak only as of the date made. Except as otherwise required by law, Kootenay expressly disclaims any obligation or undertaking to release publicly any updates or revisions to any such statements to reflect any change in Kootenay's expectations or any change in events, conditions or circumstances on which any such statement is based.
Cautionary Note to US Investors: This news release may contain information about adjacent properties on which we have no right to explore or mine. We advise U.S. investors that the SEC's mining guidelines strictly prohibit information of this type in documents filed with the SEC. U.S. investors are cautioned that mineral deposits on adjacent properties are not indicative of mineral deposits on our properties. This news release may contain forward-looking statements including but not limited to comments regarding the timing and content of upcoming work programs, geological interpretations, receipt of property titles, potential mineral recovery processes, etc. Forward-looking statements address future events and conditions and therefore involve inherent risks and uncertainties. Actual results may differ materially from those currently anticipated in such statements.
This press release uses the terms "Measured", "Indicated", and "Inferred" resources. United States investors are advised that while such terms are recognized and required by Canadian regulations, the United States Securities and Exchange Commission does not recognize them. "Inferred Mineral Resources" have a great amount of uncertainty as to their existence, and as to their economic and legal feasibility. It cannot be assumed that all or any part of an Inferred Mineral Resource will ever be upgraded to a higher category. Under Canadian rules, estimates of Inferred Mineral Resources may not form the basis of feasibility or other economic studies. United States investors are cautioned not to assume that all or any part of Measured or Indicated Mineral Resources will ever be converted into Mineral Reserves. United States investors are also cautioned not to assume that all or any part of a Mineral Resource is economically or legally mineable.
2014 number 04